Tailored Solution!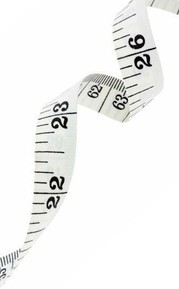 The BusinessTreeSystem© offers in each of the 7 levels of action different seminars, representing essentially the backbone of the method. Additionally, we have achieved better results with our clients, listening to them and doing on-site visits and then - with our analysis tools - make a situational analysis at no cost and deliver the first solution proposal. Then together we refine the unique project until we know that it will meet the goals and company expectations.
Our success plan for you:
Define clear goals and objetives in advance.

Prepare the participants for the seminar (motivation, e-mail information).

If needed, during the seminar first find out a common objective, encouraging active participation and a sense of commitment.

The first results and a positive internal attitude towards change are visible within few hours in the personnel!

Each participant develops his/her own personal action plan with clear objectives and deadlines.

Define an optional Project for Monitoring and Follow-up to potentiate results.
Analysis Tools
Among the three tools we select the appropriate analysis tool depending on the customer; and send to you the situational analysis by email within a week.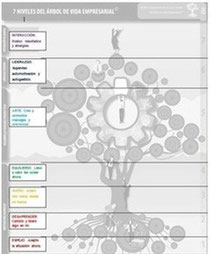 The 7 levels of the BusinessTreeSystem© are our first analysis tool to assess your Enterprise situation.
With this tool we can see where and how the employees' potential can be utilized more efficiently and which work formula we will apply for our coaching intervention. We deliver observations and recommendations to the client, on which levels of the BusinessTreeSystem© we should work to achieve the defined goals.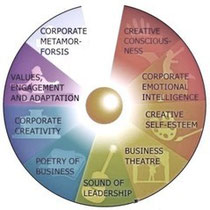 Second Analysis Tool, the Innovation Wheel.
We measure employees' and team's artistry; creativity and multiple intelligences. If we detect areas of oportunity that have had a negative impact the productivity of the organization, we will develop a strategy applying the Art Coaching and other dynamics.
"The Art in Management" is, besides biology and antropology, a modern solution concept, alternative to traditional economics science.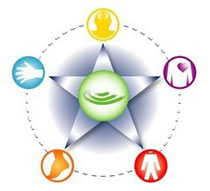 Third Analysis Tool, the 5 Pillars of the Sustainable Warrior©.
This meter helps us assess employees individually, as well as teams  or corporate sectors, in their ability of self-motivation, decision making and influence others.